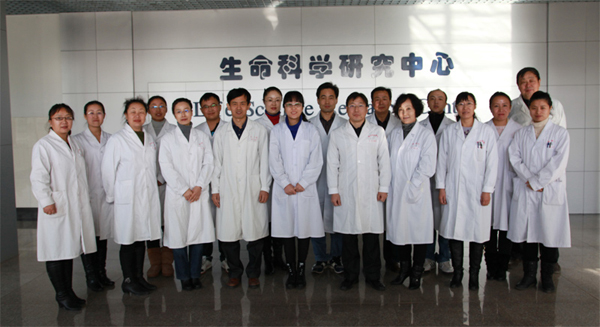 The Life Science Research Centre of Hebei North University is a comprehensive science technique platform, taking the base of integrating subject and laboratory resources in life science field of the university; focusing on scientific research, talents education and society service to accelerate the construction of modern, open and comprehensive university. It supplies scientific services with high standards to the university and society, taking the principle of "open, sharing, integration and effectiveness".
In the Life Science Research Centre, there are mainly four experiment platforms, subjects' labs, experiment animals storage room, BSL-2 lab and information system. At present, molecular biology experiment technique, cytobiology experiment technique, cell culture technique, modern analysis and detection platform and BSL-2 lab (Ⅱbiosafety grade) have come in use, ensuring scientific research for whole faculty and students.
Molecular biology lab is located on the seventh floor of Science and Technology Building in Life Science Research Center, equipped with the advanced facilities including liquid chromatography-mass spectrography(LC/MS), Isoelectrofocusing Electrophoresis System, Gel Imaging System, Fluorescence Quantitative PCR Amplifier, Nucleic Acid Isolation Machine, Fluorescence Spectrophotometer,Ultraviolet Spectrophotometer,and ect. At present, the following research methods are available.
1.Single Nucleotide Polymorphism(SNP) analysis; Restriction Fragment Length Polymorphism( RFLP) analysis.
2.Reverse Transcription-PCR(RT-PCR).
3.Western Blot.
4.Gene Cloning.
5.Construction of Expression Vectors in Prokaryote or Eukaryote;
6.Transient or Stable Transfection.
In the cytobiology lab, there have existed following instruments, transmission electron microscope, scanning electron microscope, flow cytometry, and laser confocal microscopy, etc. used for cytology and morphology. And analysis and research work can be processed on immunohistochemistry, ultrastructure of tissue, and labeling of cellular immunity (apoptosis and immunocyte CD3\CD4\CD8 somatotype). Laser confocal microscopy can be used for observation of specificity\structure of living cell and section tissue.
For cell culture room, it belongs to serious cell culture room, with class aseptic workshop, and instruments, including fluorescence inverted microscope, multifunctional microplate reader, multifunctional microscope, etc. Research on cytology can be finished to provide technical support for researches on cytobiology, molecular biology physiology of flora and fauna.
As for modern analysis and detection platform, it has been equipped with a serious instruments for physicochemical and biochemical analysis, including preparation liquid chromatogram, CO2 supercritical microwave digestion system, effective analyzing liquid chromatogram, automatic amino acid analyzer, freezing drier, etc. Lots of technique research can be performed, such as: quality control of medicine, kinetic analysis of drug metabolism, component analysis of important drugs, determination of active substance in vivo, toxicant analysis, analysis for active constituents of plants, detection for drug residue and food additives, qualification and quantification of amino acid in samples (proteolysis, amino acid analyzer), qualification and quantification analysis of effective components in samples, purification of effective components in samples, etc.
Biosafety level laboratory—2 expresses that hazard rating of pathogens and biological factors concerned in the experiments in this lab is Ⅱ. The experiments performed in this lab are mainly finished by cell culture in vitro, pathogen culture and building up medical animal models, while applying the knowledge of cytobiology, biochemistry, microorganism, immunology, pathology, and molecular biology, etc.
All faculties of the Life Science Research Centre of Hebei North University would like to do our best to provide excellent services to the society, and cooperate with all institutes.